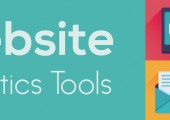 By using website analytics tools you can find out if your marketing efforts are truly effective. You'll be able to track every article, video, or other piece of content you publish online. Here are the top 10 tools every publisher should use:
#1 – Google Analytics
Almost every publisher online uses Google Analytics (GA). It's made by and for the Google search engine, which is the most popular one right now. GA enables you to understand how Internet users are interacting with your site. It shows you how many people visit your site, where they are coming from (referrals), and sets up campaigns, so you can track how close you're coming to your online marketing goals. While GA provides a lot of ways to determine how well you're doing with your content marketing, most people use it in conjunction with other analytical tool to gain a clearer picture of what they need to do next.
#2 – Piwik
This site functions a lot like GA, but many people believe it's easier to use. The dashboard can be customized by users to show them exactly what they need to see each time they log in. E-commerce business owners love the ability to see real time data, so they can make changes to their site depending on activity throughout the day. In addition to these features, Piwik gives users the ability to:
Create plugins
Track website downloads
Customize reports to show what matters the most
All of these analytical tools packed into one website may be worth a lot of money, but it's absolutely free. There's no reason you shouldn't try it to see if it's perfect for your content marketing analysis.
Share: